Cooperations & Memberships
Exchange of experience and cooperation is very important for us, which is why we work intensively with our cooperation partners and industry associations.
Alphamanagement was a founding member of SeniorManagementWorldwide (SMW) 15 years ago, an association of 20 interim management providers worldwide. Further information can be found on the International page.
We have been a pioneer in the market and we are member of the German Association of Interim Management Providers (AIMP) for many years.
We have been friendly with the umbrella company Deutsches Interim Management e. V. (DDIM) since its foundation and since 2019 we are an associate partner.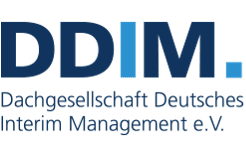 In a cooperation with the European Business School that has been in existence for 10 years now, AlphaManagement maintains the professional exchange in the arc of tension between teaching & science on the challenges of interim management in operational practice. Whether it is to capture and evaluate relevant scientific trends in a timely manner or to analyse new trends in the major economic areas and markets, the proactive merging of theory and practice constantly develops approaches that exemplary.